News
SUGAR SMART NEWS AROUND THE UK
Caught Out! Advertising watchdog bans KP Snacks junk food ads for England & Wales Cricket Board
Two adverts for the family friendly cricket tournament The Hundred which were sponsored by KP Snacks have been banned by the Advertising Standards Authority, who ruled that they breached rules protecting children from exposure to unhealthy food and drink marketing.
13/04/2022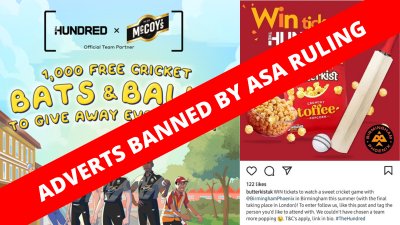 The Advertising Standards Authority (ASA) has upheld part of a complaint by the Children's Food Campaign and Food Active about sponsorship advertising by KP Snacks as part of the family-friendly cricket tournament The Hundred. According to rules established by the industry self-regulator, the Committee for Advertising Practices (CAP), companies are banned from advertising food or drink high in fat, salt or sugar (HFSS) directly to under-16s.
The organisations alerted the watchdog to a series of marketing activities carrying KP Snacks logos including Butterkist, McCoy's crisps, KP Nuts, Hula Hoops as part of the sponsorship deal with England & Wales Cricket Board (ECB) tournament The Hundred during August 2021. They included emails, social media posts and a dedicated "Everyone In" website with activities featuring snack-branded cartoon cricket players, linked to KP Snacks' web pages.
The ASA's investigation revealed that under-16s who had registered for information about the tournament had received an email encouraging recipients to enter competitions to win KP Snacks branded prizes, via a KP Snacks owned website advertising several of their products. The watchdog also found that KP Snacks had not done enough to protect under-16s being exposed to an Instagram post featuring Butterkist popcorn, which contains 51g sugar per 100g – with one 30g portion containing 15g which is half the daily maximum sugar intake for an adult (or two thirds of maximum recommended for 7-10 year olds).
Children's Food Campaign and Food Active say new advertising restrictions currently going through Parliament in the Health & Social Care Bill can't come soon enough, and are also calling for an end to junk food 'sportswashing' sponsorship deals.
Responding to the ruling, Children's Food Campaign Co-ordinator Barbara Crowther says:
"KP Snacks and the ECB have been caught out this time. We're glad the ASA has told them very clearly to be more responsible in ensuring their marketing does not target children in future.

"However, it's taken seven months to reach this verdict, which didn't stop any junk food advertising at the time of the tournament, whilst neither body is facing any penalties or fines for breaking the rules.

"This is why we urgently need the more powerful new food and drink advertising restrictions contained in the Health and Social Care Bill. We are also calling on Government to go further and kick junk food sponsorship out of sport altogether – our research shows 9 in 10 parents think these partnerships are inappropriate. This case clearly shows that simply asking sports organisations to be responsible in their commercial partnerships is not working, and there needs to be a level playing field for all, and for our children's health."
Also responding to the ruling, Beth Bradshaw of Food Active says:
"Preparations are well underway for The Hundred 2022 with the Men's and Women's teams draft taking place just last week, attracting some international super stars in the cricketing world such as Jemimah Rodrigues, Keiron Pollard and Rashid Khan.

"So, we are really pleased to see this ruling announced now by the ASA, which will help to protect more children from inappropriate marketing of HFSS products whilst they are simply trying to watch cricket in this year's upcoming tournament. Parents we spoke to last year in our 'Kicking Out Junk Food' report agreed that associating less healthy food and drink products with sport is unhelpful, and that the Government should do more to tackle junk food being part and parcel of watching sport.

"What is crystal clear from this ruling is that the current advertising codes on HFSS products are not fit for purpose and do not protect children's health. Time and time again we see that the food industry cannot be trusted to abide by advertising codes so stronger restrictions on blatant marketing of HFSS products to children are absolutely warranted."
In November 2021, the Children's Food Campaign and Food Active's report Kicking Junk Food Out of Sport contained research with 346 parents across the UK which revealed that:
90% said the marketing of junk food through sport made it harder for them to feed their children a healthier diet food.
86% said Government should create new laws to stop partnerships between junk food brands and sport.
9 in 10 also agreed that grassroots sports and physical activities shouldn't have to rely on food and drink brands for funding
The report included a series of recommendations for healthier partnerships between the sports industry and the food and drink sector including:
• Government to include sports sponsorship in all future healthier advertising and marketing regulations for food and drink.
• Sports associations to refuse all further sponsorship deals that include marketing less healthy food or drink brands
• High profile athletes and sports personalities to use their influence to support healthy food programmes and refuse to work with less healthy brands.

SHARE
Follow SugarSmartUK