News
SUGAR SMART NEWS AROUND THE UK
Sugar levels in festive hot drinks slammed by campaigners
Some festive hot drinks sold in high street coffee chains have as much sugar as three cans of Coke, according to new research by Sustain's member Action on Sugar, renewing calls for milk-based sugary drinks to be added to the Soft Drinks Industry Levy.
03/12/2019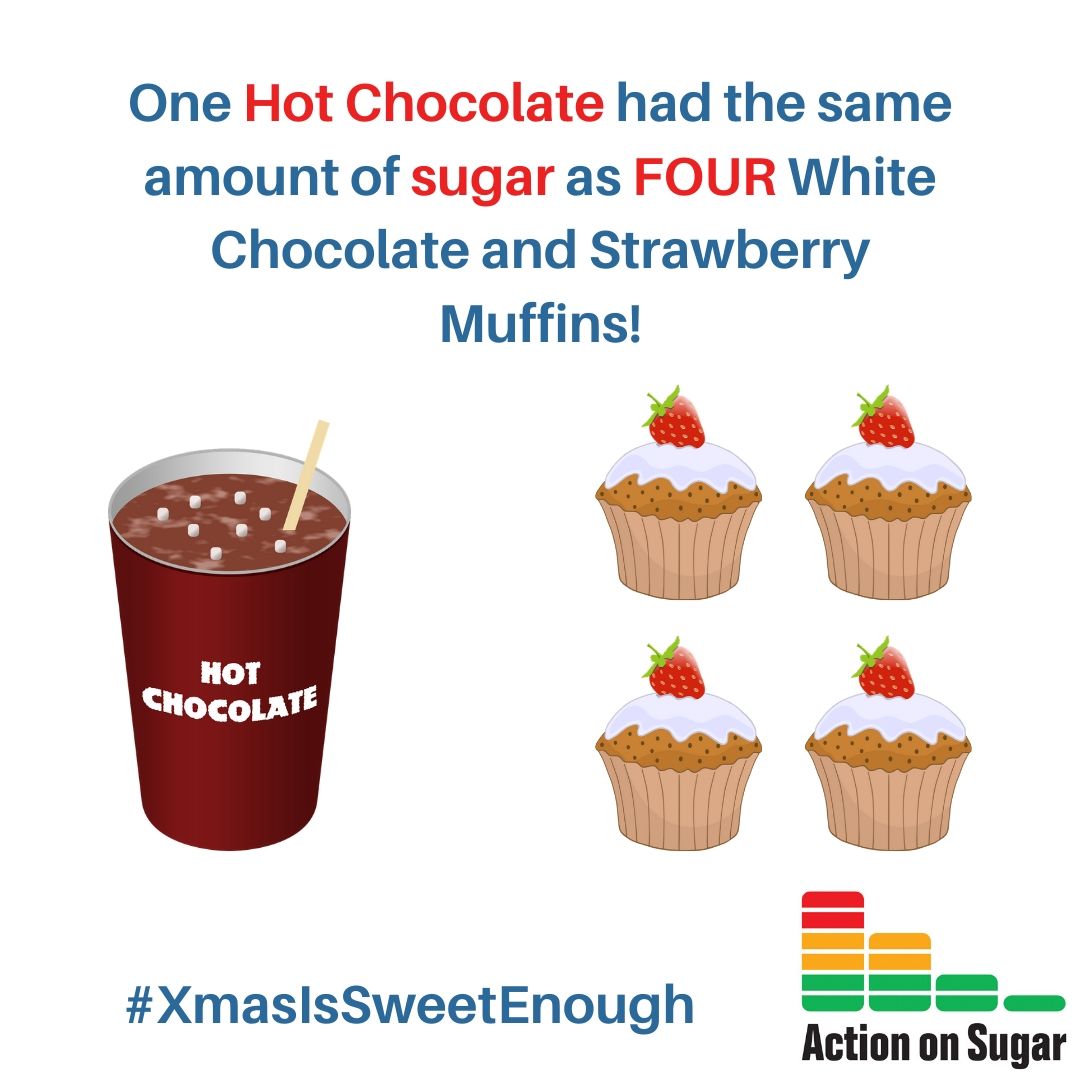 With the days getting darker and chillier, high street coffee chains are tempting us to warm up with hot chocolate and festive-themed milky drinks.
However a new report released by Action on Sugar reveals that the quantities of sugar in many of the milky drinks (including alternative plant-based milk) remain shockingly high. The worst overall offender was Starbucks' Signature Caramel Hot Chocolate made with oat milk and topped with whipped cream, where the largest (Venti) size weighs in with a whopping 23 teaspoons of sugar (93.7g, or four times' a child's recommended maximum amount) and 758 calories. At the other end of the spectrum, the largest hot chocolate size (regular) available in Leon contained just 17g, or four teaspoons of sugar equivalent.
Whilst the soft drinks category has seen significant sugar reduction in the last two years, mostly due to the Soft Drinks Industry Levy in force since April 2018, the research from Action on Sugar indicates that sugar levels in 27% of the milk-based drinks, which are currently exempt from the levy, had actually increased. Along with Action on Sugar, Sustain and the Children's Food Campaign are amongst many organisations calling for the inclusion of milk-based drinks given the failure of voluntary efforts to reduce sugar. The Department of Health plans to review the inclusion of milk-based drinks in 2020.
Registered nutritionist Katharine Jenner, who is Action on Sugar's Campaign Director and a trustee of Sustain, says,
"You can always add sugar in, but you can't take it out. The hospitality industry has a key role to play in being transparent to help reduce the amount of sugar we consume, which is one of the biggest causes of obesity, Type 2 Diabetes and tooth decay. Companies must improve the flow of healthy options, and always display clear nutrition information at the point of sale."
For more information:
SHARE
Follow SugarSmartUK