News
SUGAR SMART NEWS AROUND THE UK
Rochdale Children's Centre becomes 1000th setting to go SUGAR SMART
Langley Children's Centre has become the 1000th organisation in the country to go SUGAR SMART. The children's centre, based in the Borough of Rochdale in Greater Manchester is one of a growing number of settings focussing on tackling sugar overconsumption among children.
11/03/2019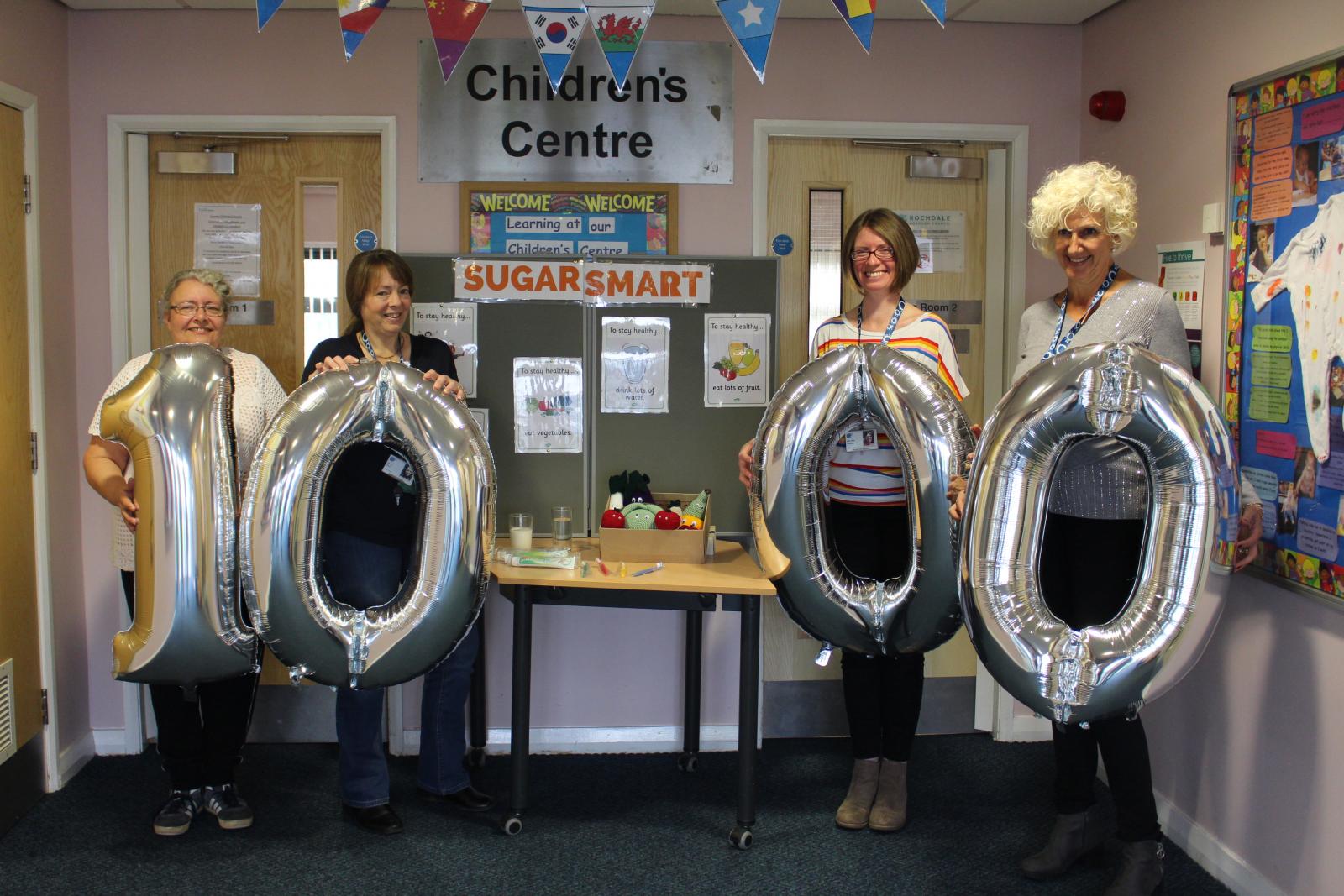 In Rochdale, diet-related disease is on the rise in younger populations. One in ten reception age children is obese and four in ten five year olds suffer from tooth decay. Councillor Sara Rowbotham, cabinet member for health and wellbeing at Rochdale Borough Council, said:
"We are so pleased to see organisations across the borough investing their time and effort in reducing sugar consumption. Becoming a SUGAR SMART borough is a key part of our work to tackle childhood obesity and to ultimately improve the health and wellbeing of our residents.
"Children's centres play a vital role in educating both parents and children and they lend a helping hand when it comes to making healthy choices. It's great to see Langley Children's Centre being proactive in tackling sugar and ask organisations to get in touch if they would like to join in with our SUGAR SMART work."
The early years programmes are a focus for campaigns across the country. Of the 10 sectors taking up the challenge to go SUGAR SMART, nearly a third of the settings are primary schools and early years' organisations.
Langley Children's Centre is getting stuck in to reducing sugar: they've replaced sugary drinks with water or milk and are now working on their meals in the hopes of getting them externally accredited. They're also working on food education with a display of healthy snack options in the centre, as well as handing out sugar quizzes and dental packs and information to support dental health.
Stacey Dunbar, Senior Practitioner at Langley Children's Centre explains how they are using SUGAR SMART to teach children to adopt healthier lifestyles from a younger age:
"Our main aim is to support children to be ready for school and obesity and dental hygiene issues are something that we are very passionate about changing.
"The SUGAR SMART campaign provides a really useful platform to support our healthy initiatives and all our staff are committed to utilising SUGAR SMART to ensure our children start school healthier."
Want your local area to become SUGAR SMART?
SHARE
Follow SugarSmartUK