News
SUGAR SMART NEWS AROUND THE UK
Restaurant milkshakes have 17 times more sugar than those in supermarkets
Action on Sugar call for a ban on excessively high sugar and calorie milkshakes sold in high street restaurant and fast food chains.
13/11/2018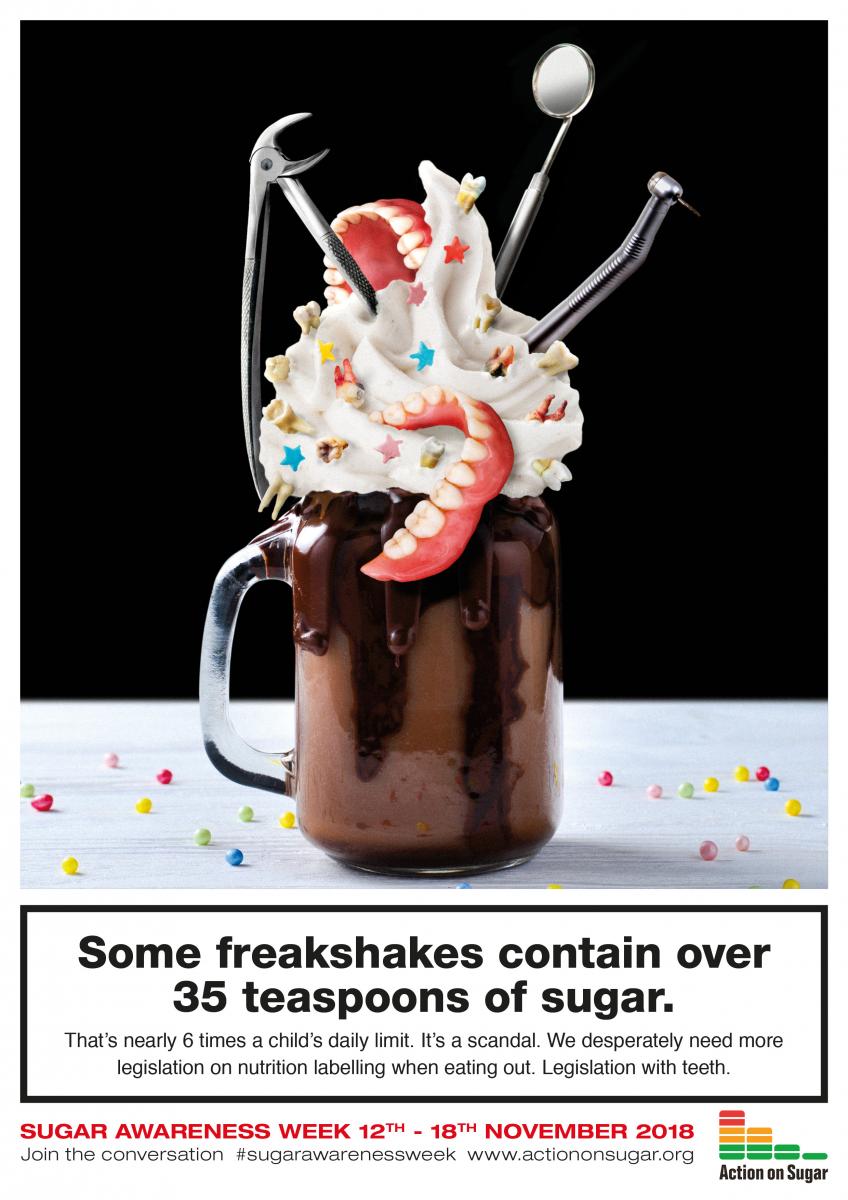 Action on Sugar have ranked family restaurant Toby Carvery as serving the most 'shocking shake' with its 'Unicorn Freakshake' containing an alarming 39 teaspoons of sugar – that's over six times the recommended daily amount of sugar for a 7- to 10-year-old. The next worst offender is Five Guys Banana and Chocolate Shake with an excessive 37 teaspoons of sugar - the equivalent of drinking over four cans of cola.

Traffic light labelling
To mark its 3rd National Sugar Awareness Week (12-18 November 2018) Action on Sugar is now calling for mandatory traffic light coloured nutrition labelling across ALL menus, while the UK government is consulting on menu calorie labelling. The new survey by Action on Sugar, who are based at Queen Mary University of London, concludes that all products sold in high street restaurants and fast food chains (with nutrition labelling available online) would receive a 'red' (high) label for excessive levels of sugar per serving.

Registered Nutritionist Kawther Hashem, Researcher at Action on Sugar based at Queen Mary University of London says:
"Undoubtedly some of these milkshakes contribute to excess sugar and calorie intake, and it is shocking this information is hidden from the consumer, who would struggle to find it. It is time the government introduced legislation to force companies to be more transparent about what is in their products by displaying clear nutrition information online and in the outlets, at all times."
Banning sale of high sugar milkshakes
Furthermore, the group of leading experts is calling for a ban on the sale of milkshakes that exceed a calorie limit of 300 kcal per serving. This contrasts with Public Health England's ambition to achieve only a 10% reduction in sugar by mid-2019 and a further 10% by mid-2021 to meet the 20% overall target, which will still leave these milkshakes with vast and unnecessary amounts of sugar.

Holly Gabriel ANutr, Nutrition Campaigner at Action on Sugar adds,
"It is unnecessary and unacceptable to sell milkshakes with over half an adult's daily calorie needs in a single serving. There should be a limit of 300kcal per serving on these drinks. If you choose to eat out in a restaurant or cafe, you could unknowingly be consuming up to four times the amount of sugar and calories compared to a similar product from a supermarket, which demonstrates how easy it is to reduce sugar and calories."
Action on Sugar also investigated the sugar and calorie levels in milkshakes sold by supermarkets and found that 90% of the 41 products surveyed would receive a 'red' (high) label for excessive levels of sugars per serving as sold. Of note, two contain no added sugars and all the sugars in those products are from milk.

The government is currently running a consultation on calorie labelling for food and drink served outside of the home which closes on 7 December 2018.
SHARE
Follow SugarSmartUK