News
SUGAR SMART NEWS AROUND THE UK
The Christmas Coke Truck is back... but it's much more secretive this year
After a pandemic-induced hiatus in 2020, the Coca Cola Christmas truck tour is regrettably back. Despite the disappointment of seeing yet again the appropriation of the Christmas cheer for the promotion of unhealthy products, the event was forced to make a few changes in response to public health and environmental campaigns.
26/11/2021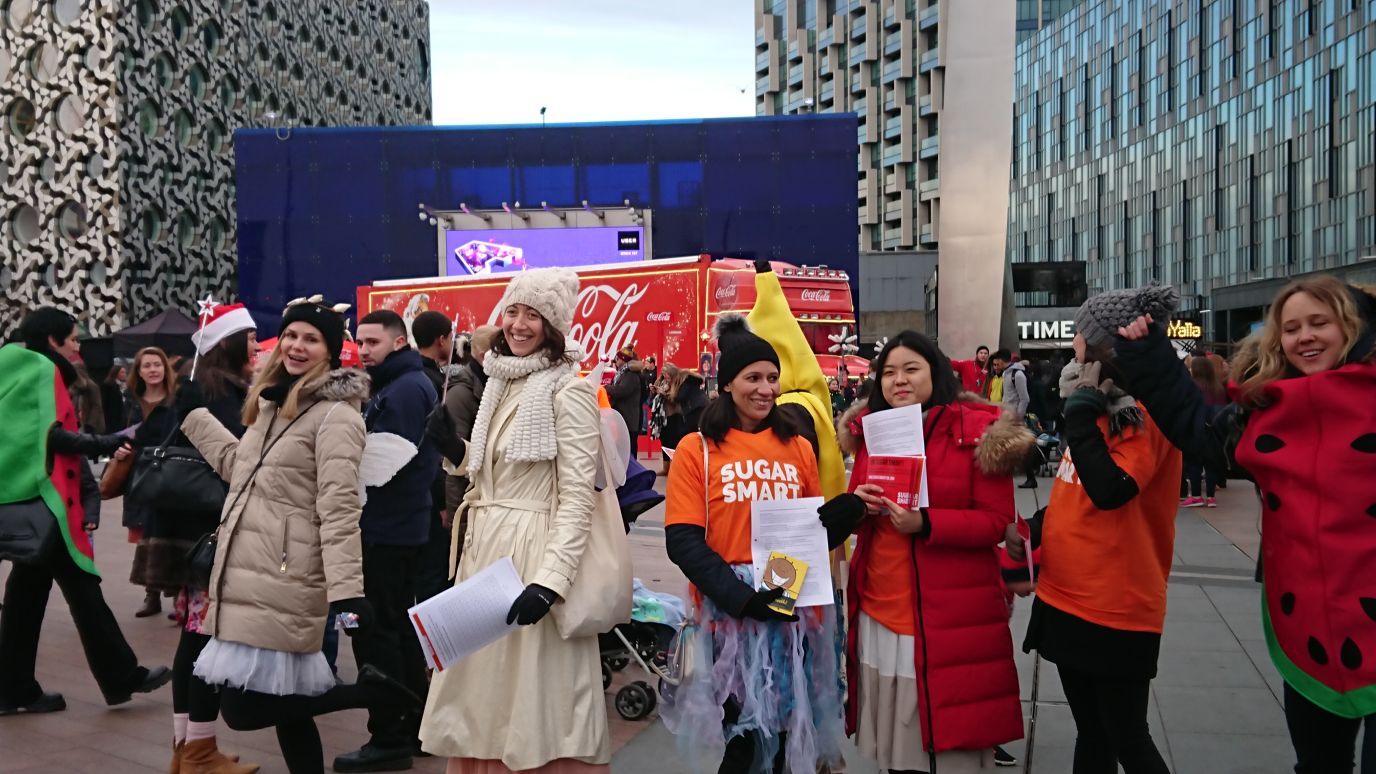 Over the years, campaigners from our Sugar Smart and Children's Food Campaign networks have confronted the Coca Cola Christmas truck tours calling for the company to cease promoting free sugary drinks, particularly to children and young people. Healthy food advocates dressed in tooth fairy outfits have descended on tour locations, delivering free tooth brushes to families and open letters to both Coca Cola and host organisations like ASDA and Tesco, asking the companies to clean up their irresponsible Christmas promotional campaign.
Direct action by public health and environmental campaigners has led to some progress. For example, Public Health England urged local authorities to consider the impact of seasonal promotions like this on public health, the tour route has considerably been reduced, they are only handing out 150ml cans of sugar-free cola and, in 2019, they were forced to cancel their London O2 leg of the tour.
This year, locations are being released one venue at a time, presumably to deal with possible covid-related restrictions, but likely to avoid organised demonstrations.
If your local area is hosting a stop of the tour, write a letter to the private organisations hosting the truck and to Coca Cola directly expressing your concerns.
Ren Piercey, Local Action Officer:
The persistence of public health campaigners over the years to highlight the iresponsible actions of the Coke Truck tour has led to new tactics. It remains irresponsible for Coca Cola to use Christmas to promote free, unhealthy fizzy drinks to families, particularly in the backdrop of a global pandemic, where the risk factors associated with Covid-19 are higher for those with poorer diets.
SHARE
Follow SugarSmartUK