News
SUGAR SMART NEWS AROUND THE UK
Mayor of London announces new wave of 100 drinking fountains
After a pilot installing 20 fountains this summer, the Mayor has partnered with Thames Water to scale up the scheme with an estimated £5million investment jointly. Sustain welcome the leadership but question whether the ambition measures up to the scale of the problem it is trying to tackle.
12/10/2018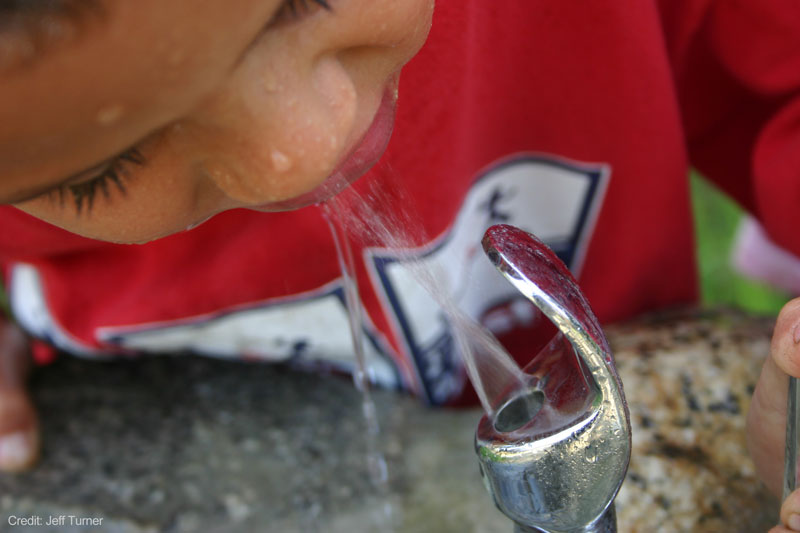 Ben Reynolds, Deputy CEO of food and farming charity Sustain, commented:
"We applaud the Mayor's continued commitment to installing drinking fountains, as this is a neat way to address both plastic pollution and child obesity. It's not the only solution to these problems, but it's a vital part of the package. We really hope that other parts of the country, other organisations and other water companies will follow suit.
"We really need to be scaling up our ambition nationally and start talking about hundreds of thousands of fountains, not hundreds. If we are serious about providing an alternative to plastic bottles and sugary drinks, these need to be a credible alternative, which means seeing them on every street corner, every park, every transport hub and beyond. And it's crucial that we do see them, at the moment we're concerned that the fountains are too discrete. We believe a national iconic design reminiscent of the public phone or post box would help turn the tide in changing behaviour.
"The rumours are that the Chancellor will be announcing the greenest budget yet this Autumn with initiatives to tackle plastic pollution. Funding a new wave of public drinking fountains across the country would send out the right message as part of this."
The full story is reported in the Guardian.
Sustain campaigns for the provision of more drinking fountains across the UK through the Sugar Smart campaign, and has installed over 40 through the award-winning Children's Health Fund.
SHARE
Follow SugarSmartUK