News
SUGAR SMART NEWS AROUND THE UK
SUGAR SMART September a sweet success
SUGAR SMART September went national this year, with local councils, organisations and individuals taking on sugar reduction challenges and inspiring others to follow suit.
24/10/2018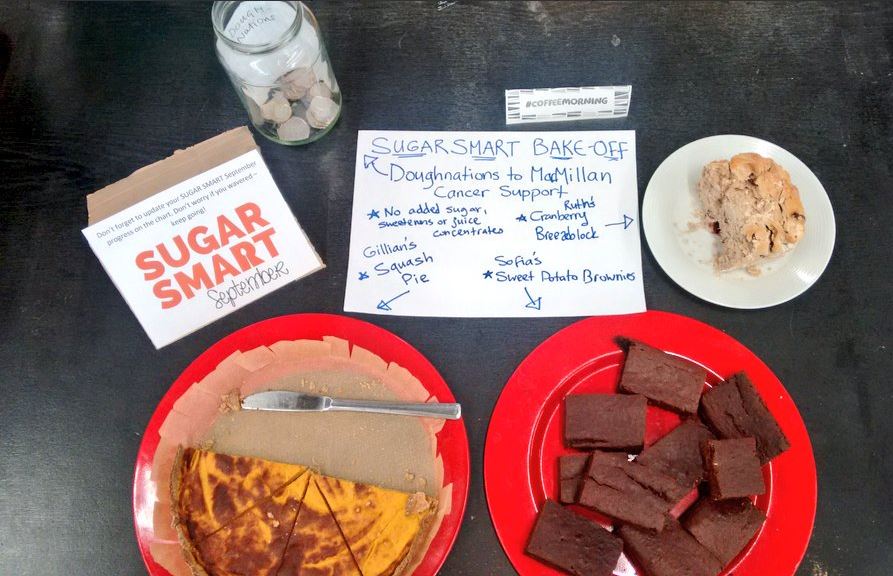 Sustain's SUGAR SMART Campaign ran a UK-wide SUGAR SMART September Challenge for the first time. Individuals and families were encouraged to take on sugar reduction challenges, such as sticking to the maximum daily sugar limit or cutting out added sugar entirely. Local councils, organisations, workplaces and schools were encouraged to address office cake culture, hold public awareness events on sugar reduction, and try new methods to support healthier eating within their communities.
The uptake was varied and inspiring. A number of local campaigns and councils got involved. SUGAR SMART Oxford developed a social media campaign to encourage people to switch away from sugary drinks and breakfast options, while SUGAR SMART Carlisle ran healthy eating stalls during Fresher's Week.
Workplaces got involved as well. Wiltshire Council supported staff to take on sugar reduction challenges as a team, and Environment Agency South West, part of the SUGAR SMART Cornwall campaign, ran healthy eating and healthy weight sessions for staff during the month. The staff at Devon County Council's Early Years and Childcare Service took part as a team and were shocked by the levels of hidden sugars in popular foods, but also happy to develop new habits and resist temptation. One participant said:
It has been a real eye opener to see how much hidden sugar is in the products we purchase. I downloaded the Change4Life App and went through all my cupboards scanning foods to find out their sugar content. Even a healthy-looking salad had 3 cubes of added sugar! I feel really proud of myself with what I have achieved. I have lost just over half a stone and am going to continue with this new way of eating.
Another brilliant outcome of the month-long challenge was a growing trend in sugar-free fundraisers, particularly during MacMillan Coffee Morning Week. It was inspiring to see people challenge the notion that we have to use sugar to encourage generosity.
We saw fundraisers that focused on upcycling useful items, like kids clothes and books, or creating savoury baked treats, such as veggie bread sticks. The team at Sustain also got on board with our own sugar-free office bake off! Staff trialled inventive no added sugar cake recipes, such as naturally sweet banana bread, sweet potato chocolate brownies, and a no added sugar pumpkin pie.
Individuals got involved as well, such as a group of friends working for the Yorkshire Ambulance Service, who cut out all added sugar and shared their stories on Twitter, supporting each other to stick to it throughout the month. One of them shared:
[SUGAR SMART September] certainly got easier with time. I lost 8lbs, became more aware of what I was eating and what value it did (or didn't!) give me, and I've planned several positive changes for the future because of this month! Thank you SUGAR SMART.
Check out the #SugarSmartSeptember hashtag on Twitter for more inspiring stories and activities.
Did you or your organisation take part? Please share your story by emailing us.
SUGAR SMART is a campaign run by Sustain. SUGAR SMART is one of the featured campaigns in the UK's Sustainable Food Cities network.
SHARE
Follow SugarSmartUK