News
SUGAR SMART NEWS AROUND THE UK
"Don't Hide What's Inside" say young people to food companies
A new report from youth organisation Bite Back 2030 exposes tricks used by companies to give products like cereal bars, yoghurts and smoothies a healthy halo.
25/10/2021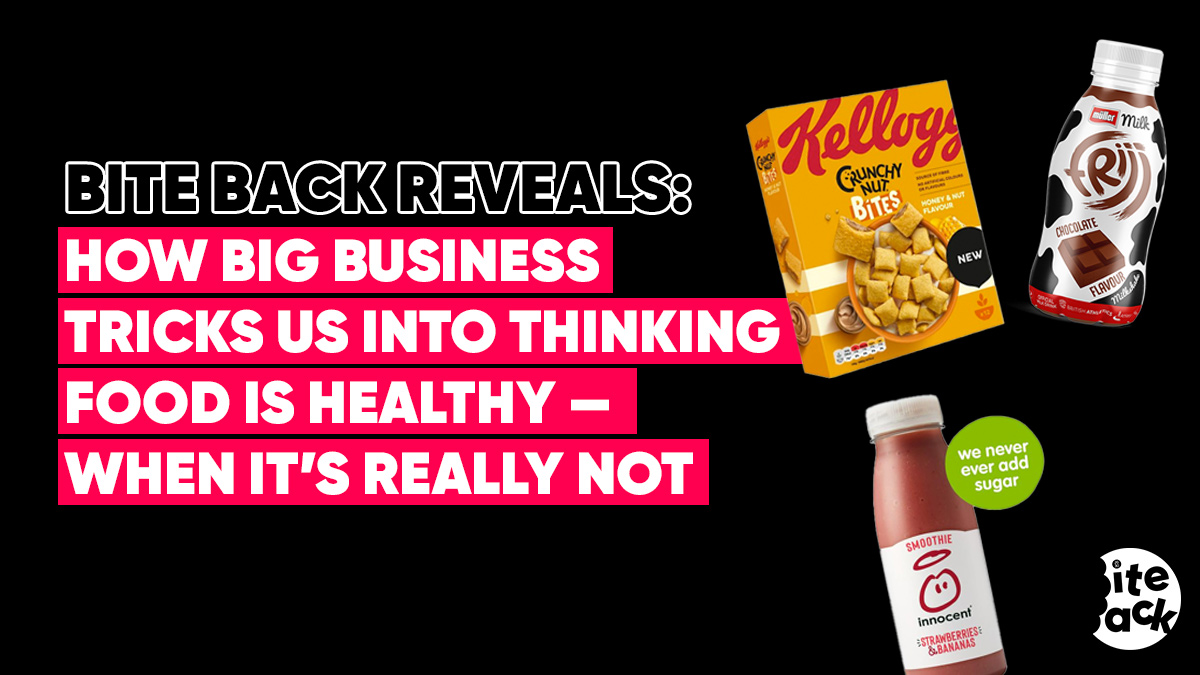 The report details how young people feel manipulated and misled into believing products are healthy, when in fact they contain high levels of sugar, salt and/or saturated fats.
In the research with 1000 teenagers aged 13-18, over half said that claims on packaging such as 'no added sugar', 'high in fibre', 'contains real fruit and veg' encourage them to believe products are healthy. The survey found that young people overwhelmingly think their diet is healthy (73%) despite the fact that their intake of sugar, fruit and veg, and fibre is not on par with, or anywhere near, the Government's daily nutrition reference intakes.
Products like smoothies, cereal bars and yoghurts, which are naturally assumed to be healthier than soft drinks and other types of snacks, were found to be most misleading. Bite Back 2030 worked with Action on Sugar to survey over 500 different food and drink products with 'health halos' driven by health, nutrition and marketing claims in categories commonly consumed by teens. Over half (57%) of all products surveyed are high in either salt, saturated fat or sugar and would receive a red colour-coded nutritional information label, and for drinks products alone the figure rises to nearly two-thirds (62%) of all products which contain very high levels of sugar.
Almost 9 in 10 young people think smoothies are healthy, but 76% of juices and smoothies would get a red traffic light label.
8 in 10 young people are led to believe cereal bars are healthy, but 81% would get a red traffic light label.
9 in 10 young people think yoghurts are healthy, but 35% of the flavoured yoghurts people are eating would get a red traffic light label.
Over half (57%) of all products carrying a health or nutrition claim surveyed are HFSS and would receive a red colour-coded nutritional information label.
Bite Back Youth Board member 17 year old Emily says:
"Misleading health claims influence the perceptions of many young people, even when there is no connection to actual nutritional quality. There have been many times when I thought I was being healthy by buying a smoothie or non-fat yoghurt, but in fact, I was exceeding my daily sugar allowance. Being healthy should be easy, but misleading health claims make it harder for people to be healthy. I didn't know that wholegrain cereals can be high in sugar. Many people are unaware of the serving size labels on food products, assuming that the entire container is a single serving, but it's actually two or three servings!"
Responding to the Bite Back 2030 report, Children's Food Campaign Co-ordinator Barbara Crowther says:
"This research by Bite Back 2030 into young people's experiences, along with the nutritional analysis of Action on Sugar, exposes a problem that our own Parents' Jury has also raised with us - that companies divert and distract us from the real ingredients and nutritional content of products with all sorts of health claims, pictures of fruit and veg and child-friendly designs. We'd like to see recommendations from this report taken up by the food industry and by Government, including ensuring all products carry front-of-pack traffic light labels and an end to the use of child-friendly cartoons and mascots on any unhealthy food or drink."
The full report by Bite Back 2030 can be found online here.
Watch the campaign film "Mascots Anonymous"
Tell Kellogg's, Innocent and Muller: #DontHideWhatsInside
SHARE
Follow SugarSmartUK