News
SUGAR SMART NEWS AROUND THE UK
Introducing SUGAR SMART's first workplaces ambassador
Amy Bromfield works for the Healthy Workplace programme as part of the Public Health team in Cornwall which looks after staff health and wellbeing for workplaces across Cornwall and the isles of Scilly. We are delighted to welcome her as our first SUGAR SMART Workplaces Ambassador.
21/08/2019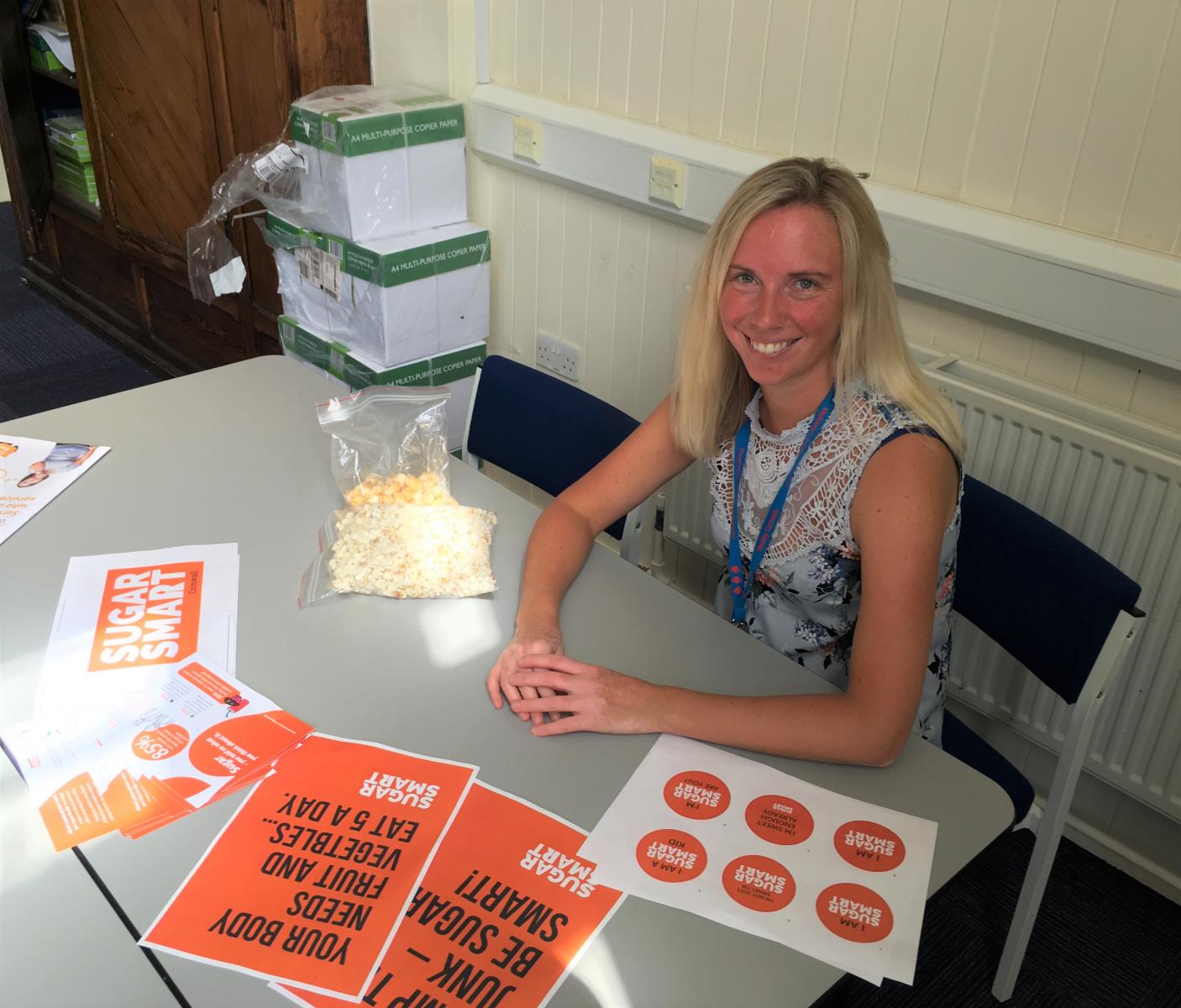 In Cornwall, SUGAR SMART has been embedded into the local workplace wellbeing scheme. This has seen Amy supporting lots of different workplaces across Cornwall to run SUGAR SMART campaigns. From the NHS Trust Foundation with almost 4000 staff members working across a variety of different remote locations at all hours to a local micro-business with just 12 employees working in an office, they've all been getting stuck in to the activities to reduce sugar overconsumption.
One thing I am passionate about is that good work is good for your health and good health is good for your work. To me, the two go hand in hand. In Cornwall we have been working with some truly fantastic companies who really are passionate about not just Health and Safety but staff wellbeing as well. If staff are happy and healthy at work, this can have so many positives including reducing sickness, improving morale and productivity.

Little changes, such as some workplaces offering fruit and healthy snacks at meetings instead of biscuits, encouraging water breaks, introducing hydration stations, providing staff water bottles, removing sugar from the tables, are all simple things the workplace can implement to encourage staff to choose healthier options while at work.

In Cornwall we are really proud to have so many fantastic case studies where workplaces have embedded the SUGAR SMART messages and as no two workplaces are the same, we love the variety of options that SUGAR SMART offers to inspire the different sectors across the workplace.
Amy Bromfield, Cornwall Healthy Workplace programme
As SUGAR SMART's first workplaces ambassador, Amy will be sharing her advice with campaigns across the country so look out for case studies and resources from Cornwall's workplaces.
We are going to be championing SUGAR SMART workplaces throughout SUGAR SMART September, so sign up to our newsletter for more tips and tricks, and check out the #SugarSmartSeptember to join in the conversation.
SUGAR SMART is a campaign run by Sustain: the alliance for better food and farming. SUGAR SMART is one of the featured campaigns in the UK's Sustainable Food Cities Network.
SHARE
Follow SugarSmartUK