News
SUGAR SMART NEWS AROUND THE UK
Fighting the Fizz in Lancashire
We're taking a moment to celebrate some of the hard work that's happened up and down the country to #GoFizzFree this February. Blackburn with Darwen show us how it's done!
03/03/2022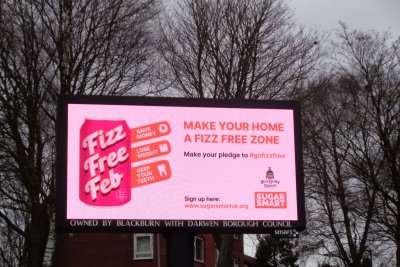 Fizz Free Feb has finished, but hopefully we've picked up some good habits to see us through the year.
It was the first time Blackburn with Darwen went Fizz Free, and they made sure it was a month to remember. Blackburn with Darwen has the highest proportion of five-year-olds experiencing tooth decay in the whole of England. 51% of five-year-olds have at least one decayed, missing or filled teeth.
The local public health team made sure the word really got out, commissioning billboard designs to get the local community on board with #FizzFreeFeb.
Meanwhile, Blackburn Rover Community Trust ran a #RoversKickTheFizz campaign, to raise awareness about the health implications of drinking fizzy drinks, and help local schools to take the fizz free pledge.
Gary Robinson, Chief Executive Officer at Blackburn Rovers Community Trust said:
"We are thrilled to be taking part in 'Fizz Free February'. Our organisation is all about inspiring our local communities to make positive changes, and pledging to 'kick the fizz' this February helps to raise awareness of the effects of drinking fizzy drinks on our health, our pockets and our environment. We are proud to be working alongside key local partners to improve the shocking statistic regarding tooth decay in children living in Blackburn with Darwen and hope that this campaign will contribute to that."
SHARE
Follow SugarSmartUK