News
SUGAR SMART NEWS AROUND THE UK
Barnsley becomes first northern town to introduce junk food advertising restrictions
Sustain worked closely with Barnsley Council to take junk food out of the spotlight and set the stage for healthier food.
06/06/2022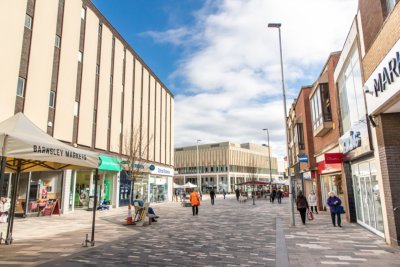 Barnsley Council in Yorkshire has become the latest local authority to restrict high fat, salt and/or sugar (HFSS) advertising. The measures, developed in collaboration with Sustain, have been introduced to protect local adult and children's health and will be in place across all of their advertising estate.
Barnsley is the first local authority in the north of England to implement a policy. Restrictions will limit advertising on all council owned or leased advertising sites.
Fran Bernhardt, Sustain's Children's Food Campaign Coordinator said:
We're delighted to have worked with Barnsley Council to remove the spotlight from unhealthy foods and drinks. As the first town in the north to introduce these policies, we hope their achievements will inspire other areas across the country to take a stand for children's health.
Julia Burrows, Director of Public Health said:
We want everyone in Barnsley to have the best possible chance of enjoying life in good physical and mental health. This guidance note is just one element of what we're doing to make it easier to be healthy. We're working with businesses who already advertise with us and will work collaboratively with any future businesses to make sure they can advertise healthy food and drink with us. We're hoping this will be the first step in other organisations in Barnsley adopting a similar policy.
The policy will restrict all advertising featuring HFSS products as well as brand advertising by food and drink companies. In line with national advertising policies on TV and online, this will use the Nutrient Profiling Model to determine which products are HFSS, and therefore restricted, and which are non-HFSS, and therefore unrestricted. Everyone can continue to advertise as long as they promote a healthier product on the advertising copy. This policy has led to businesses removing the spotlight from HFSS products and instead featuring healthier food and drinks in a starring role in their advertising.
The Council's landmark decision builds on the Transport for London's Healthier Food Advertising Policy implemented with the support of Sustain in February of 2019, which has since shown to have led to households buying 1000 fewer calories from HFSS products per week, and 20% fewer sugary purchases.
Transport for London also announced that their advertising revenues have been unaffected by the restrictions since implementation in 2019. In the first year of the policy, revenues went up by £2.3 million, and in the second year (2020-21), despite financial losses due to Covid lockdowns at the time, the restrictions enabled the advertising figures to be maintained.
Since the successful implementation of the advertising policy on London transport, there has been a wave of interest from across local authorities with more than 80 contacting Sustain for advice on their own policies. Sustain has successfully supported the London boroughs of Greenwich; Haringey; Merton and Southwark; as well as Bristol city to introduce Healthier Food Advertising policies, making Barnsley the 6th local authority in the country.
National governments have also started taking action on outdoor advertising. The Scottish Government committed to implementing HFSS advertising restrictions in September 2019 which were to be brought in "as soon as practicable", but in 2020 they announced the plans would be put on hold, to the dismay of health campaigners. The Welsh Government has committed to implement restrictions on HFSS advertising, sponsorship and promotions by 2030, and will be exploring implementation with transport networks in 2022.
If your local authority is interested in introducing a policy to restrict HFSS advertising, check out Sustain's toolkit for local authorities.
Sustain's work in this area, through our Children's Food Campaign, is kindly supported by Impact on Urban Health.
SHARE
Follow SugarSmartUK